Temperature effect on the phenotypic expression of characters of costal spots Nyssorhynchus triannulatus (Diptera: Culicidae: Anophelinae)
Abstract
In this study, the effect of temperature on the phenotypic expression of size, elongation (length/width) and costal wing spots among families, progenies and sexes was evaluated through traditional morphometry in populations of Nyssorhynchus triannulatus from southern Colombia. In the progenies of 11 families, obtained at 20, 24 and 28 °C the wings showed four costal spots patterns. Pattern I was present in all three breeding temperatures with the highest frequency. Within families, the average length/width of wing ratio was significantly higher in males than females, while the variation by sex of this character was similar. Among the families, the temperature had variable influence on the sizes of wings and costal spots. Within the components of phenotypic variation, the breeding temperature had no significant detectable effect on the length of the wing and several of the analyzed characters; however, the proportion of the subcostal pale spot length over the length of the distal sector dark spot (SCP/DSD) was the most sensitive to temperature changes. The genetic contribution of the wing size and the measured characters length, as well as the effect of the families (origin) on the phenotypic variation, was significant for almost all the characters analyzed. The effect of the sexes on the phenotypic variation of the studied characters was significant only for some characters, while there were few significant interactions between the three factors analyzed (temperature, family and sex) with a low effect on the phenotypic variation.
Authors
Ranulfo González Obando

Universidad del Valle, Santiago de Cali, Colombia

Heiber Cárdenas Henao

Universidad del Valle, Santiago de Cali, Colombia

Omar Alejandro Marín Londoño

Universidad del Valle, Santiago de Cali, Colombia
Downloads
Download data is not yet available.
Keywords
Genética
morfología
mosquitos
morfometría tradicional
Nyssorhynchus triannulatus
Anophelinae
Colombia
Genetics
morphology
mosquitoes
traditional morphometry
Nyssorhynchus triannulatus
Anophelinae
Colombia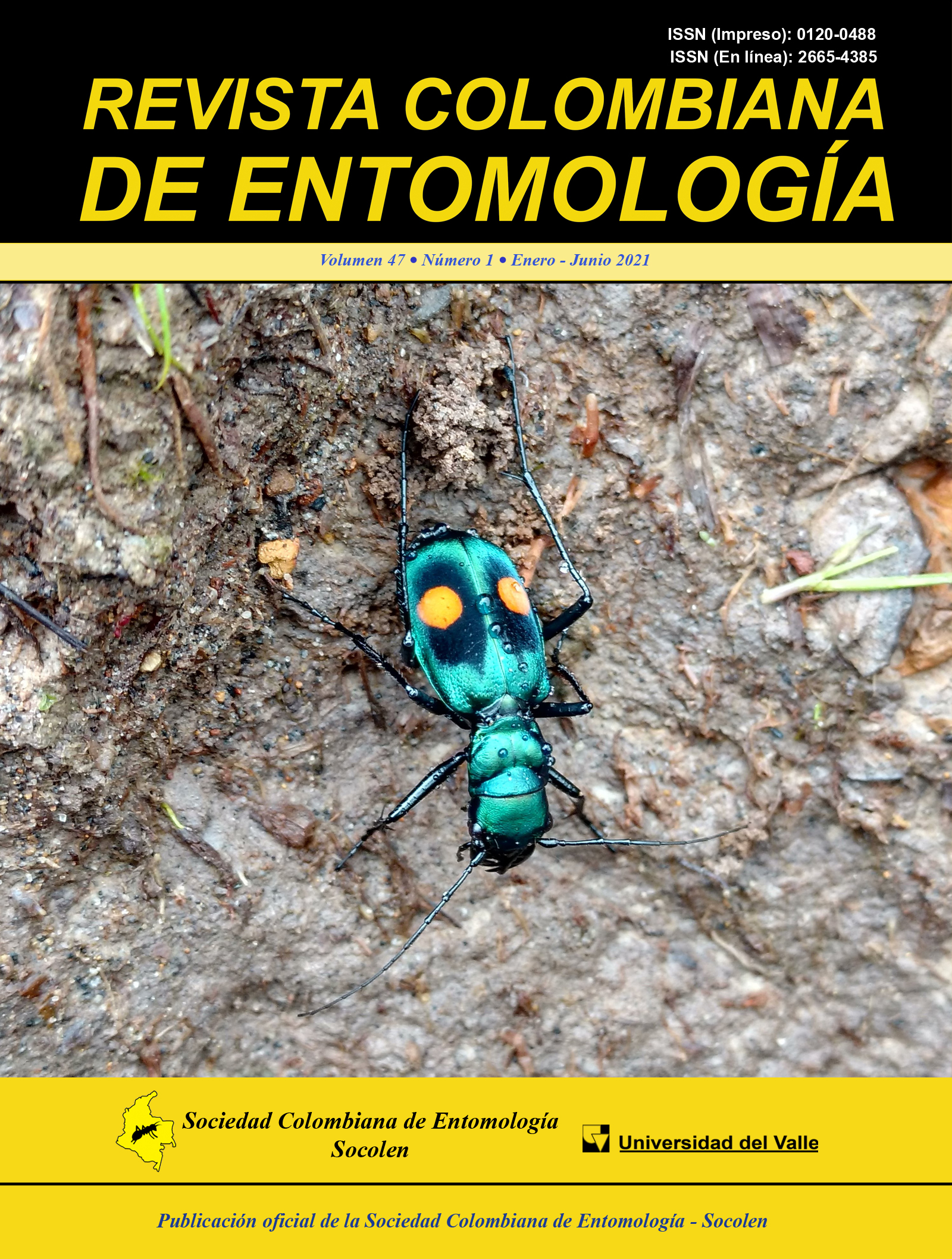 | 0 |
How to Cite
González Obando, R., Cárdenas Henao , H. ., & Marín Londoño, O. A. . (2021). Temperature effect on the phenotypic expression of characters of costal spots Nyssorhynchus triannulatus (Diptera: Culicidae: Anophelinae). Revista Colombiana De Entomología, 47(1), 1-17. https://doi.org/10.25100/socolen.v47i1.8456
Section
Basic / Research paper
Copyright (c) 2021 Array
This work is licensed under a Creative Commons Attribution-NonCommercial-ShareAlike 4.0 International License.