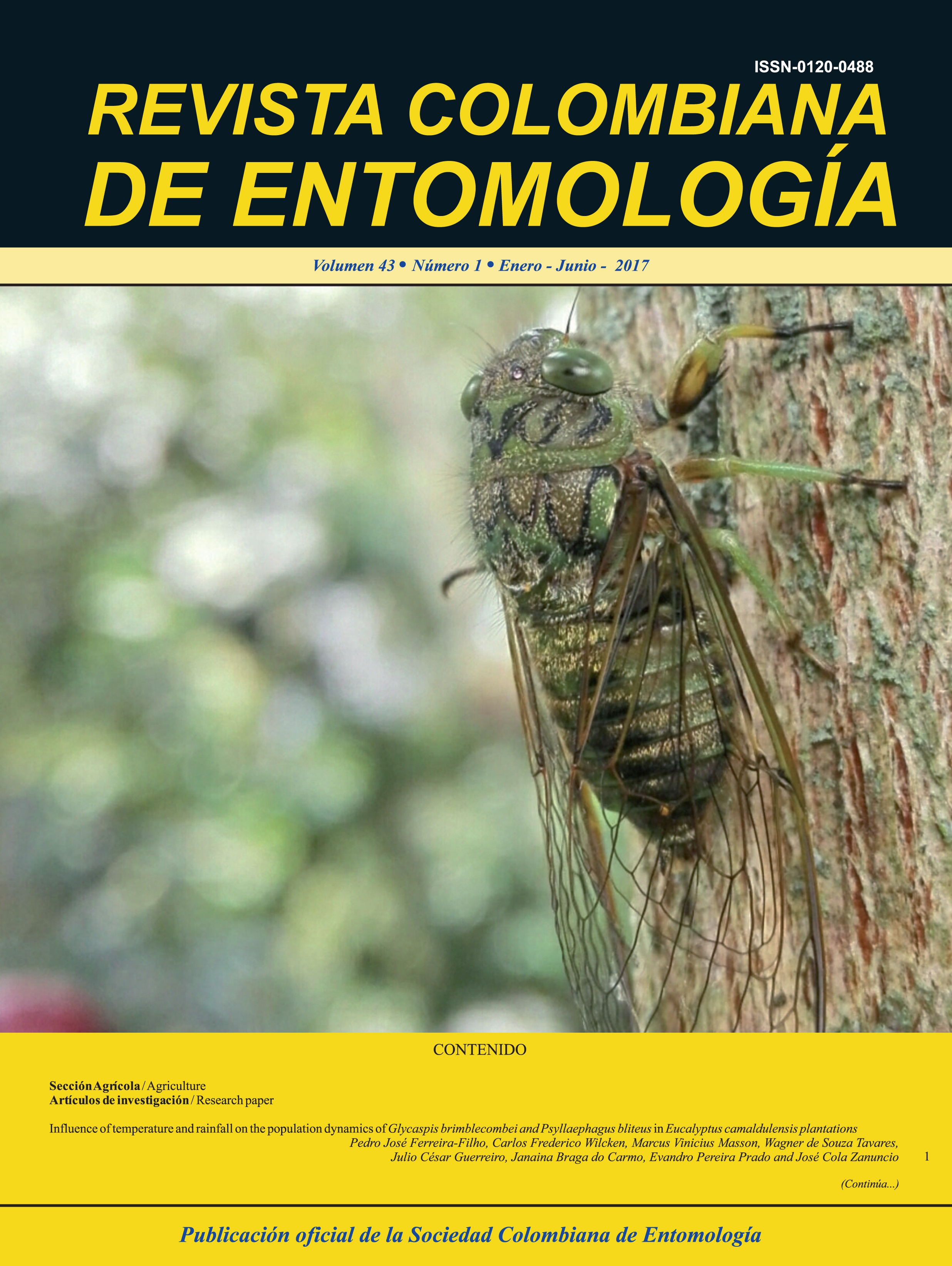 Bioecology of Epilachna difficilis (Coleoptera: Coccinellidae: Epilachninae) in Central-West of Mexico
Phytophagus insects Natural enemies Biological control
Main Article Content
Epilachna difficilis was reported for the first time on Bonplandia geminiflora (Polemoniaceae). To study the biological and ecological aspects of this species, samples were taken weekly in 2011 in "La Gloria" Canyon, Sahuayo, Michoacán, México, and complementary studies were conducted in the laboratory. The first occurrence of E. difficilis was observed in mid-August and the last in early December. Defoliation to B. geminiflora ranged from 38.0-98.5 %. Six species of predators, viz., Podisus congrex, Podisus brevispinus, Oplomus dichrous, Oplomus pulcher (Hemiptera: Pentatomidae: Asopinae), Pselliopus nigropictus, and Rocconota sp. (Hemiptera: Reduviidae), were recorded. Temperature and precipitation were positively correlated (r = 0.8 and 0.6, respectively) with higher population peaks. However, E. difficilis showed a wide range of adaptability in different regions and climates where its host plants grow. Under laboratory conditions, five instars were recorded during 25.95 days of larval development; the entire lifecycle was completed in 37.8 ± 1.7 days. Of the five crops species evaluated, only cucumber suffered damage (30.0 %) by adult insects, although all insects died thereafter. This is the first bio-ecological study of E. difficilis. Results may be useful in the biological control of related pests such as E. varivestis.
Garcia-Segura, J., Cortez-Madrigal, H., Marin-Jarillo, A., & Angoa Pérez, M. V. (2017). Bioecology of Epilachna difficilis (Coleoptera: Coccinellidae: Epilachninae) in Central-West of Mexico. Revista Colombiana De Entomología, 43(1), 77–84. https://doi.org/10.25100/socolen.v43i1.6653
Downloads
Download data is not yet available.
Authors retain the copyright on their work and are responsible for the ideas expressed in them. Once a manuscript is approved for publication, authors are asked for a publication license for the term of legal protection, for all territories that allows the use, dissemination and disclosure of the same.