Fluctuation of Premnobius cavipennis (Coleoptera: Curculionidae: Scolytinae) populations in balsa (Ochroma pyramidale) plantations in the central zone of the Ecuadorian Littoral
Abstract
This study aimed to determine the population fluctuation of Premnobius cavipennis and the effect of the trap height on balsa plantations (Ochroma pyramidale). The research was in El Vergel, El Empalme, and Guapara, three localities of Ecuador. There were used flight-interception traps with alcohol as an attractant, placed at one, four, and eight meters high. The collection and evaluation were carried out every week, for one year by locality. Premnobius cavipennis showed a population fluctuation throughout the year, with population peaks in months of the rainy season in the three locations. In El Vergel, the greatest abundance of P. cavipennis was found with 2,382 individuals, showing a population maximum in December. In El Empalme 1,263 individuals were captured, with population increases in January and April. In Guapara 525 individuals were registered, showing a population increase in March. There were captured individuals of P. cavipennis in the three heights of the traps in the three locations. There were highly significant differences between the heights, with a greater effect on the capture at one meter in the three locations of individuals at one meter, behavior that was the same in the three locations.
Authors
Downloads
Download data is not yet available.
Keywords
Plantación
fluctuación poblacional
periodo climático
localidad
escolítinos
Curculionidae
Premnobius cavipennis
Plantation
population fluctuation
climatic period
location
scolytines
Curculionidae
Premnobius cavipennis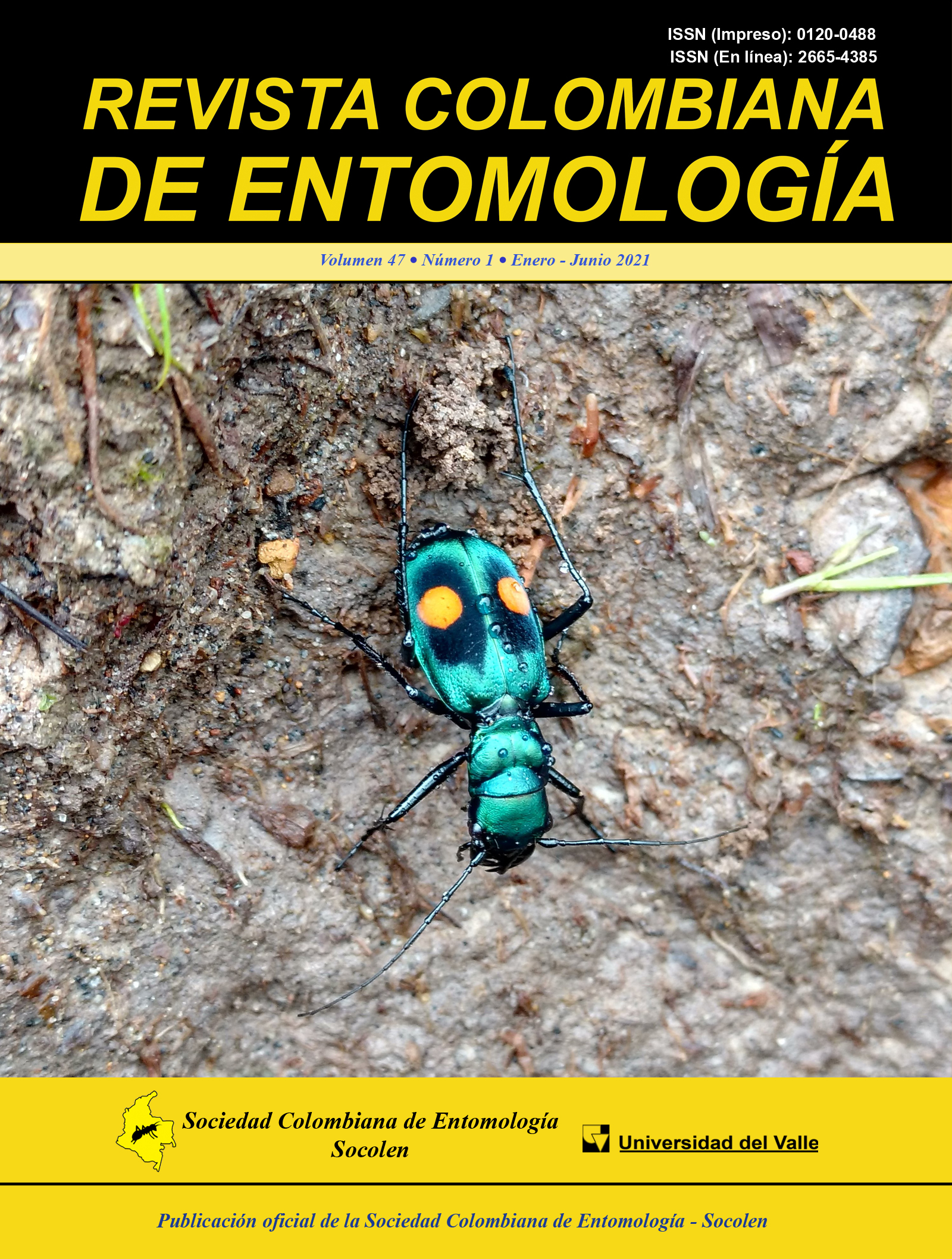 | 0 |
How to Cite
Averos, J. B. ., Castro-Olaya, J., Martínez-Chevez, M. ., Guachambala-Cando, M. ., Peñarrieta-Bravo, S. ., Chirinos-Torres, D. ., & García-Cruzatty, L. . (2021). Fluctuation of Premnobius cavipennis (Coleoptera: Curculionidae: Scolytinae) populations in balsa (Ochroma pyramidale) plantations in the central zone of the Ecuadorian Littoral. Revista Colombiana De Entomología, 47(1). https://doi.org/10.25100/socolen.v47i1.9279
Section
Basic / Research paper
Copyright (c) 2021 Array
This work is licensed under a Creative Commons Attribution-NonCommercial-ShareAlike 4.0 International License.