Considerations on the status of the knowledge of coleopteran diversity (Arthropoda: Insecta) in Colombia
Abstract
Coleoptera is one of the most diverse orders on the planet, and Colombia one of the most biodiverse countries. The combination of these two factors determines with no discussion a high concentration of species, with only partially known consequences in the country. In this work we describe the current state of knowledge about the diversity of coleopterans in Colombia, highlighting the role of entomological collections and the knowledge gaps to
tackle the national beetle fauna. This contribution is a starting point for coleopterologists of Colombia to begin working together towards a broader and less fragmented knowledge of the
natural history, systematics, ecology, and biogeography of the group.
Authors
Downloads
Download data is not yet available.
Keywords
coleópteros
región neotropical
colecciones biológicas
colecciones entomológicas
beetles
Neotropical region
biological collections
entomological collections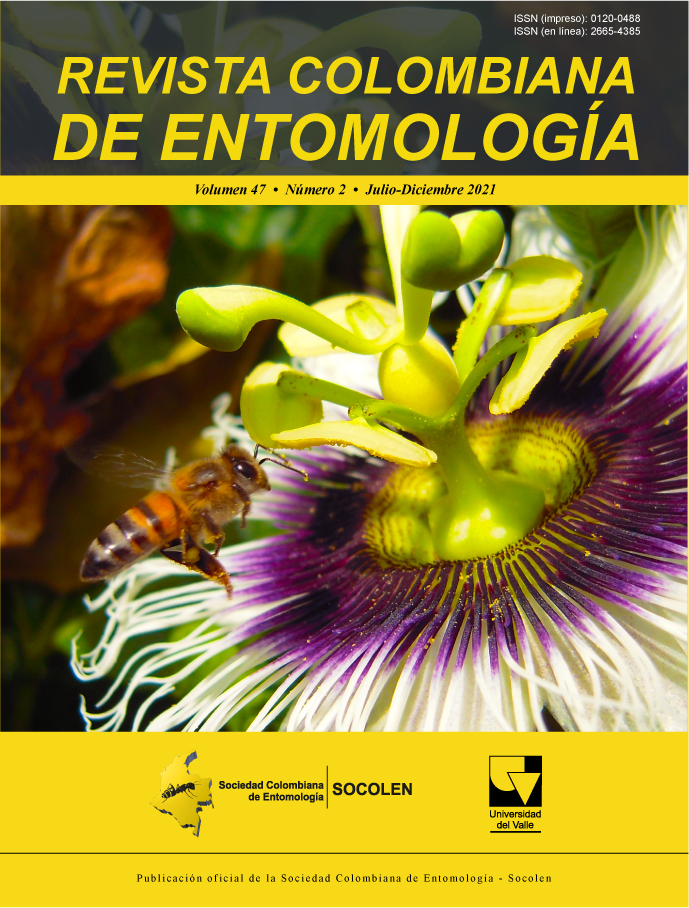 | 0 |
How to Cite
Girón, J. C., Amat García, G., Botero, J. P., Cardona-Duque, J., Clavijo-Bustos, J., Díaz-Durán, C., García Concha, J. H., García, K., López Murcia, W., Lugo de la Hortúa, A., Neita Moreno, J. C., Ramírez-Salamanca, J. M., Taboada-Verona, C., Uchima Taborda, D., & Viasus-Bastidas, A. (2021). Considerations on the status of the knowledge of coleopteran diversity (Arthropoda: Insecta) in Colombia. Revista Colombiana De Entomología, 47(2). https://doi.org/10.25100/socolen.v47i2.10717
Section
Entomological essays
Copyright (c) 2021 Array
This work is licensed under a Creative Commons Attribution-NonCommercial-ShareAlike 4.0 International License.