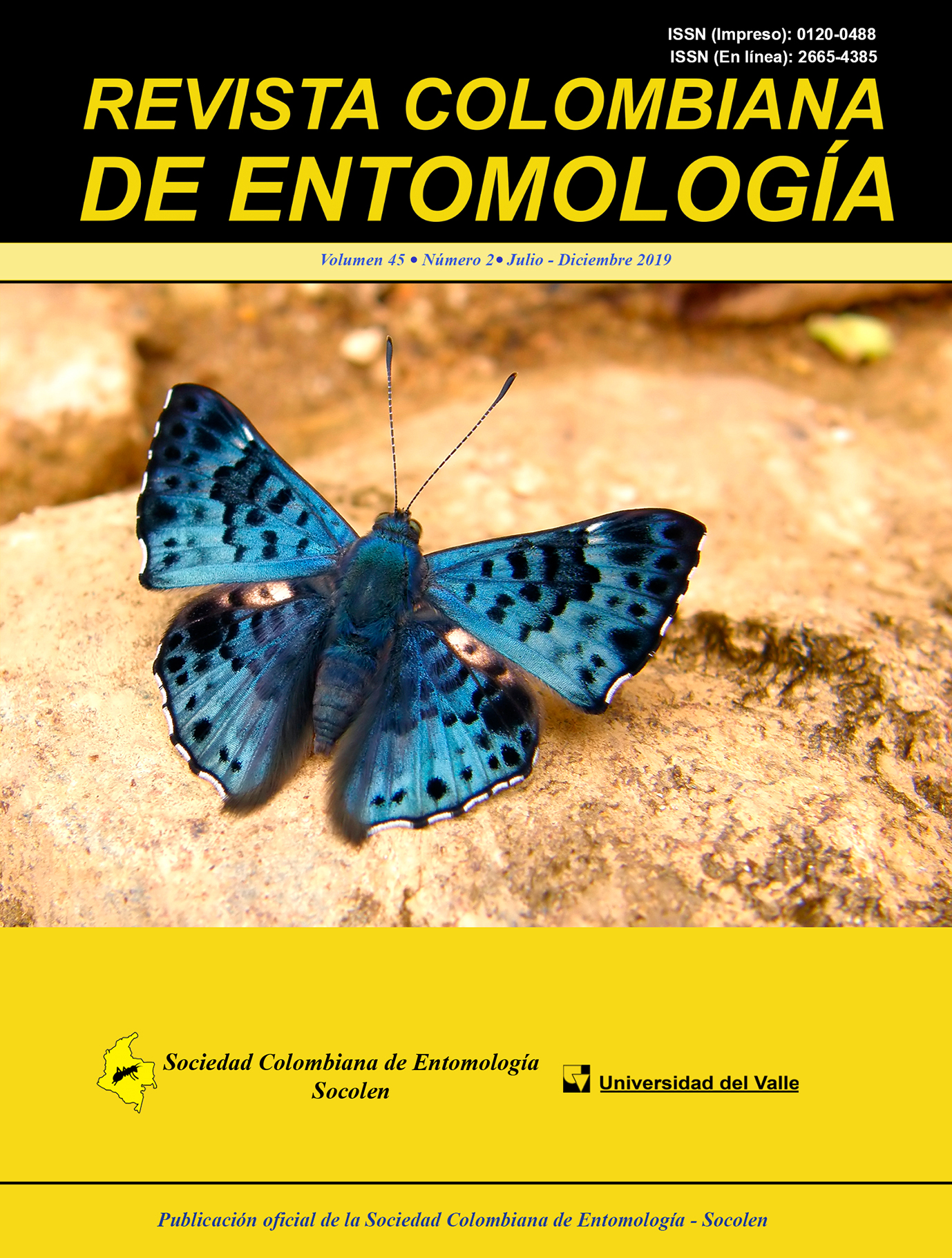 Effect of the cattle ranching matrix on diurnal butterfly (Lepidoptera: Rhopalocera) in dry forest parches, Patia (Cauca, Colombia)
Tropical dry forest anthropisation bioindication diversity Lepidoptera
Main Article Content
The Patía region (Cauca, Colombia) is an area that is vulnerable to anthropic interventions and natural phenomena; this condition motivated the realization of this study, which reflects the ecological dynamics of using butterflies as biological indicator organisms. This research evaluated the effects of the cattle ranching matrix on the community of diurnal butterflies (Lepidoptera: Rhopalocera), in two fragments of Patía dry forest, Cauca: Las Martas and La Pachuca. Two capture methods were used: entomological net and van Someren Rydon traps primed with fish and decomposed banana, and established in two transects of 300 m each, for each fragment. Sampling was carried out from September 2014 to February 2015. Between the two fragments were 679 individuals distributed in six families: Nymphalidae (61.12 %), Pieridae (19.00 %), Hesperiidae (13.99 %), Lycaenidae (2.21 %), Papilionidae 2.65 %) and Riodinidae (1.03 %), 14 subfamilies and 81 species. The Jaccard coefficient of 0.43 showed similarity among the diurnal lepidopteran community, which shared 35 species of the total recorded. The sampling efficiency was between 48.38 and 67.9 %, which suggesting continuity in the sampling of the fragments. It is concluded that a strong effect of extensive cattle ranching exists in the community of diurnal Lepidoptera, however, the species that were registered as euritopes and stenotopes may be key to developing conservation plans based on biological corridors.
Gallego-López, A. P., & Gallego-Ropero, M. C. (2019). Effect of the cattle ranching matrix on diurnal butterfly (Lepidoptera: Rhopalocera) in dry forest parches, Patia (Cauca, Colombia). Revista Colombiana De Entomología, 45(2), e7814. https://doi.org/10.25100/socolen.v45i2.7814
This work is licensed under a Creative Commons Attribution-NonCommercial-ShareAlike 4.0 International License.
Authors retain the copyright on their work and are responsible for the ideas expressed in them. Once a manuscript is approved for publication, authors are asked for a publication license for the term of legal protection, for all territories that allows the use, dissemination and disclosure of the same.