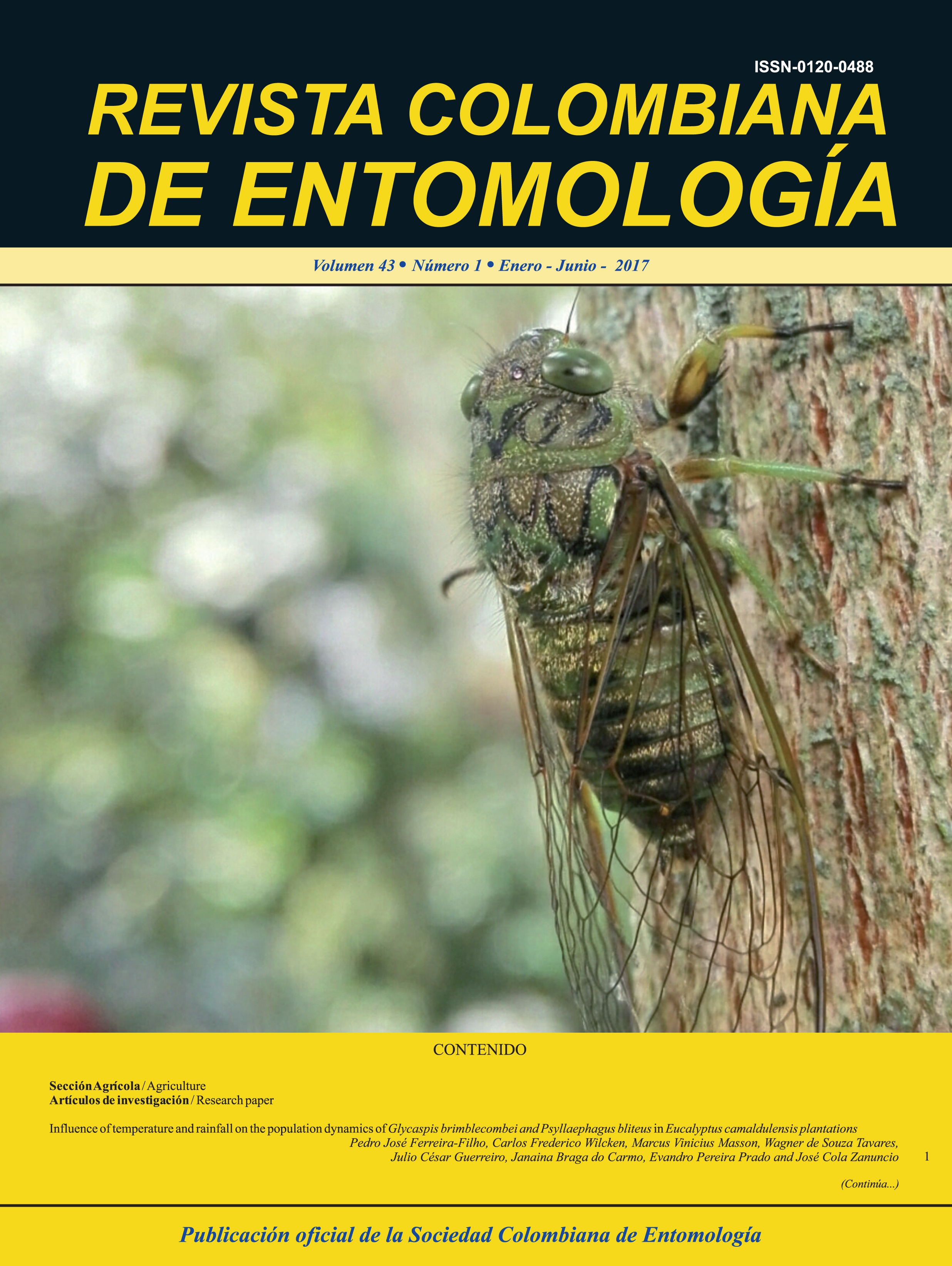 Bioacumulación de metales pesados en los cuerpos de obreras de Camponotus atriceps y Dorymyrmex brunneus (Hymenoptera, Formicidae): un estudio exploratorio
Agroquímicos Hormigas Bioindicadores Concentración Contaminación ambiental
Main Article Content
Este estudio cuantifica la concentración de metales pesados (cobre, zinc, cadmio, plomo y níquel) en la biomasa de dos especies de hormigas, Camponotus atriceps y Dorymyrmex brunneus de bosques y cultivos, respectivamente, localizadas en Sinop, Mato Grosso, Brasil. Para el muestreo de hormigas se utilizaron trampas en ambas áreas, y las concentraciones de metales presentes en la biomasa se obtuvieron por espectrometría de absorción atómica. Las dos especies se seleccionaron porque fueron las más abundantes en cada tipo de uso de la tierra, teniendo en cuenta el volumen requerido de biomasa necesaria para el análisis químico. Los resultados mostraron que, con la excepción del
cobre, los metales pesados tuvieron más altas concentraciones en D. brunneus en áreas de cultivo que en C. atriceps procedentes de los bosques nativos. Los resultados se asocian con el hecho de que las áreas de cultivo recibieron alta entrada de insumos de agroquímicos a través del manejo de cultivos de maíz y soja. Por lo tanto, las hormigas son buenos indicadores de la contaminación y polución ambiental en las regiones tropicales y, como se esperaba, la mayor concentración de metales pesados se presentó en las zonas de cultivo en relación con la superficie forestal adyacente.
Rabello Casagrande, G. C., Dambros, J., Lopes Tortorela De Andrade, R., & Dênis Battirola, L. (2017). Bioacumulación de metales pesados en los cuerpos de obreras de Camponotus atriceps y Dorymyrmex brunneus (Hymenoptera, Formicidae): un estudio exploratorio. Revista Colombiana De Entomología, 43(1), 64–68. https://doi.org/10.25100/socolen.v43i1.6651
Downloads
Download data is not yet available.
Authors retain the copyright on their work and are responsible for the ideas expressed in them. Once a manuscript is approved for publication, authors are asked for a publication license for the term of legal protection, for all territories that allows the use, dissemination and disclosure of the same.