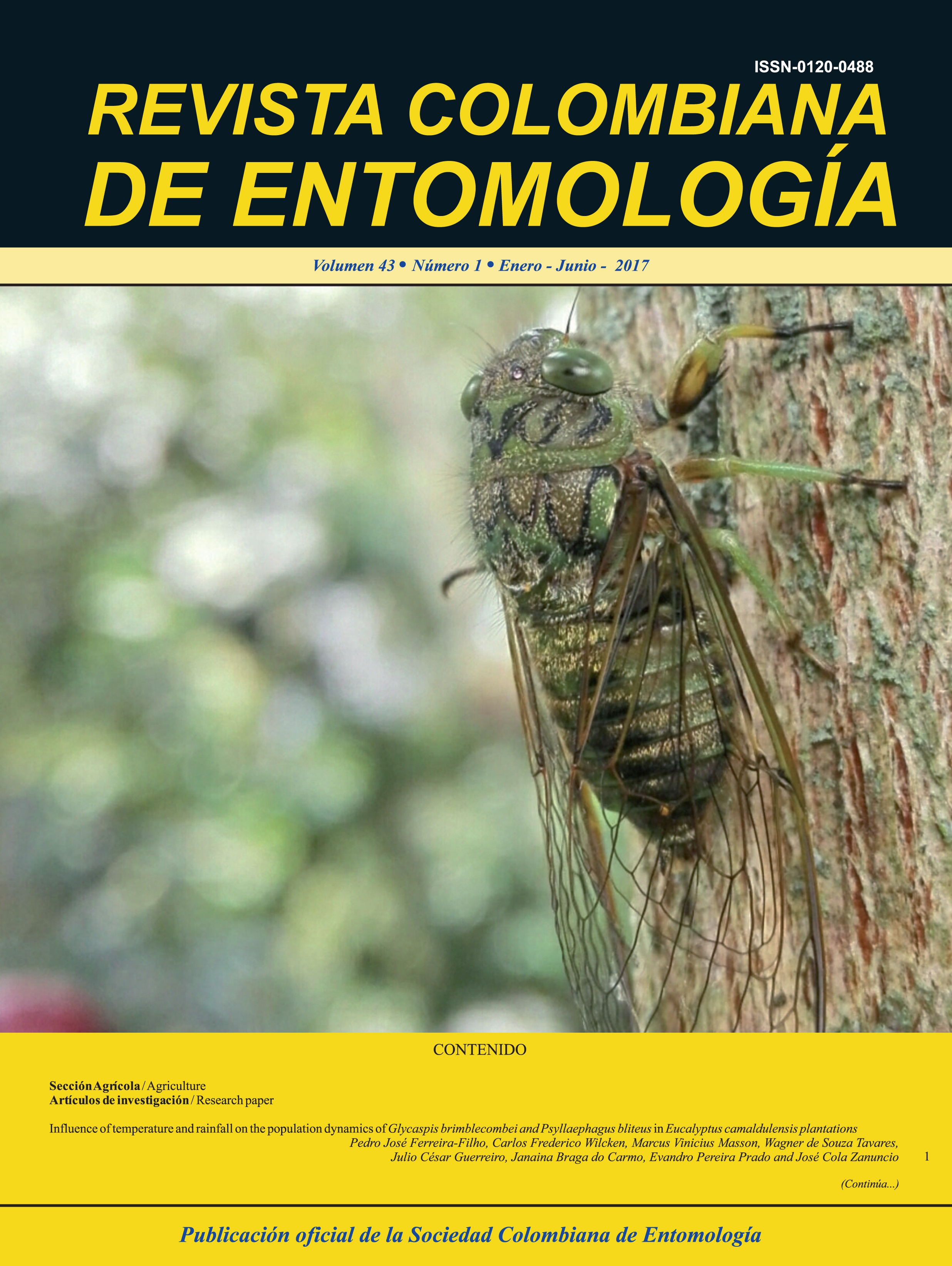 Susceptibility of Aedes aegypti (Diptera: Culicidae) from the municipality of Soledad (Atlántico, Colombia) to etofenprox and alphacypermethrin
Insecticide resistance Pyrethroids Vector control
Main Article Content
Dengue is a viral disease of interest to public health for the municipality of Soledad in the Atlantico department (Colombia). Previous studies for this municipality have registered resistance to insecticides in Aedes aegypti, the main vector of the dengue virus. The susceptibility status to etofenprox and alpha- cypermethrin was determined in a population of Ae. aegypti collected in 2013 from the municipality of Soledad. The resistance factor was calculated using the bottle bioassay from the CDC (Centers for Disease Control and Prevention) based on 50% of knockdown concentration (KC50) and 50 % of lethal concentration (LC50) for each insecticide in the field population and the susceptible strain (Rockefeller). The field population of Ae. aegypti showed low level of knock-down resistance to the insecticide etofenprox (FRKC50 = 1.8X) and at 24 hours post-exposure (FRLC50 = 2.2X); meanwhile for alpha-cypermethrin the population registered high knock down resistance (FRKC50 = 12.9X) and at 24 hours post-exposure (FRLC50 = 18.9X). High resistance to the pyrethroid alpha-cypermethrin was found in the population of Ae. aegypti evaluated. The etofenprox could be an alternative insecticide for the control of the dengue vector in the municipality of Soledad, Atlantico department.
Maestre-Serrano, R., Ponce-García, G., & Flores-Suárez, A. (2017). Susceptibility of Aedes aegypti (Diptera: Culicidae) from the municipality of Soledad (Atlántico, Colombia) to etofenprox and alphacypermethrin. Revista Colombiana De Entomología, 43(1), 41–44. https://doi.org/10.25100/socolen.v43i1.6646
Downloads
Download data is not yet available.
Authors retain the copyright on their work and are responsible for the ideas expressed in them. Once a manuscript is approved for publication, authors are asked for a publication license for the term of legal protection, for all territories that allows the use, dissemination and disclosure of the same.