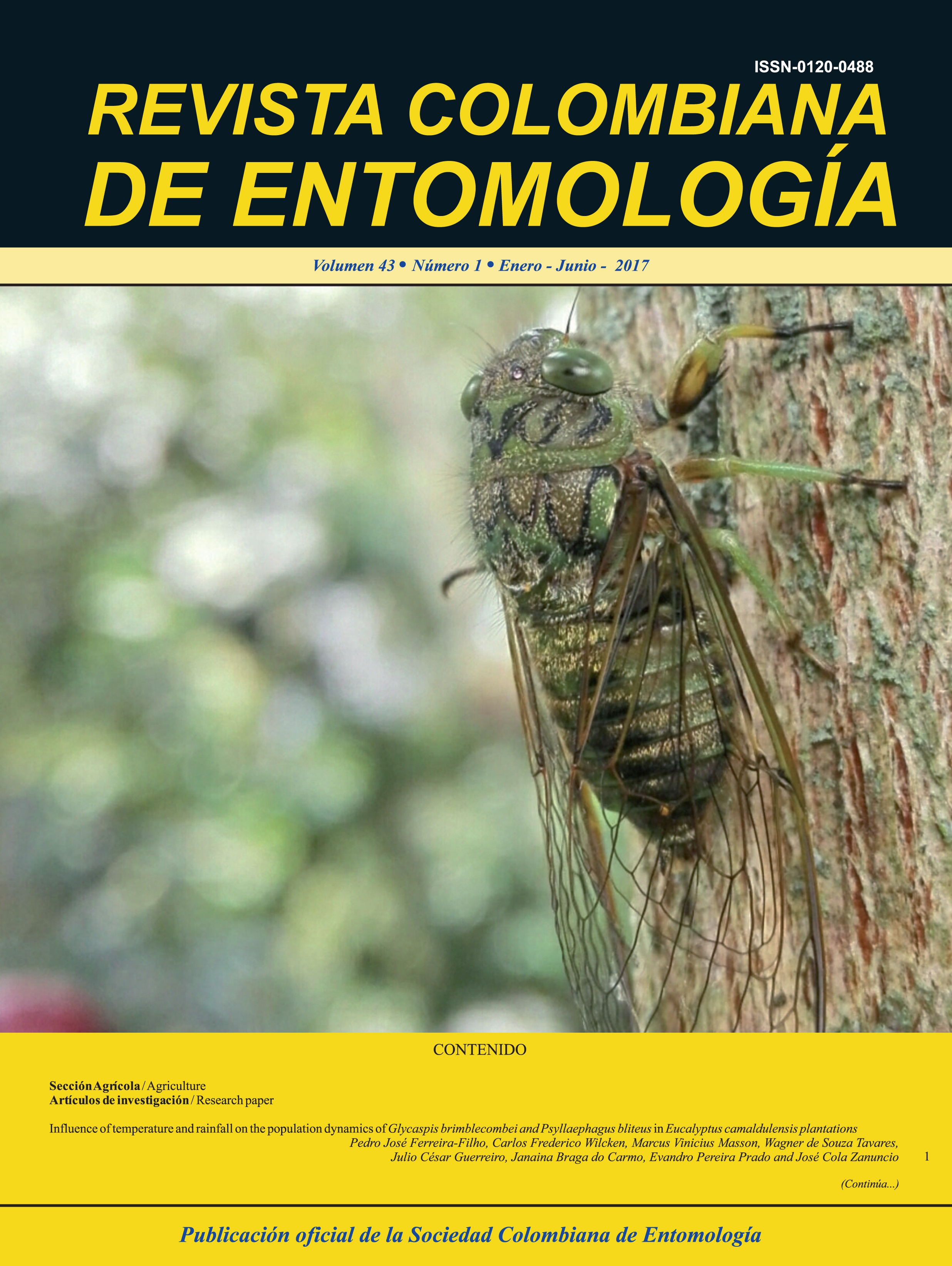 Efectos de los insecticidas sobre la liberación de CO2 por nematodos entomopatógenos (Nematoda: Rhabditida) y el desarrollo de sus bacterias mutualistas
Steinernematidae Heterorhabditidae Compatibilidad Metabolismo Abamectina Clorpirifos
Main Article Content
El presente estudio tuvo como objetivo evaluar la liberación de CO2 por juveniles infecciosos (JIs) y la viabilidad de bacterias mutualistas de nematodos entomopatógenos (NEP) expuestos a insecticidas sintéticos. Se probaron dos especies de NEP, Heterorhabditis amazonensis JPM4 y Steinernema carpocapsae All. Los insecticidas aplicados fueron Vertimec® (abamectina) y Klorpan® (clorpirifos). Se empleó cromatografía de gases para el análisis de CO2. Se aislaron las bacterias y se evaluó el desarrollo de colonias en placas de Petri estériles. Vertimec® desencadenó una mayor liberación de CO2 por los nematodos, asociado con cambios en su actividad metabólica, que el Klorpan®. Vertimec® y Klorpan® no inhibieron el desarrollo bacteriano.
de S. Sabino, P. H., Moino Jr., A., Andaló, V., Lima, L. M. Z., & Filgueiras, C. C. (2017). Efectos de los insecticidas sobre la liberación de CO2 por nematodos entomopatógenos (Nematoda: Rhabditida) y el desarrollo de sus bacterias mutualistas. Revista Colombiana De Entomología, 43(1), 38–40. https://doi.org/10.25100/socolen.v43i1.6645
Downloads
Download data is not yet available.
Authors retain the copyright on their work and are responsible for the ideas expressed in them. Once a manuscript is approved for publication, authors are asked for a publication license for the term of legal protection, for all territories that allows the use, dissemination and disclosure of the same.