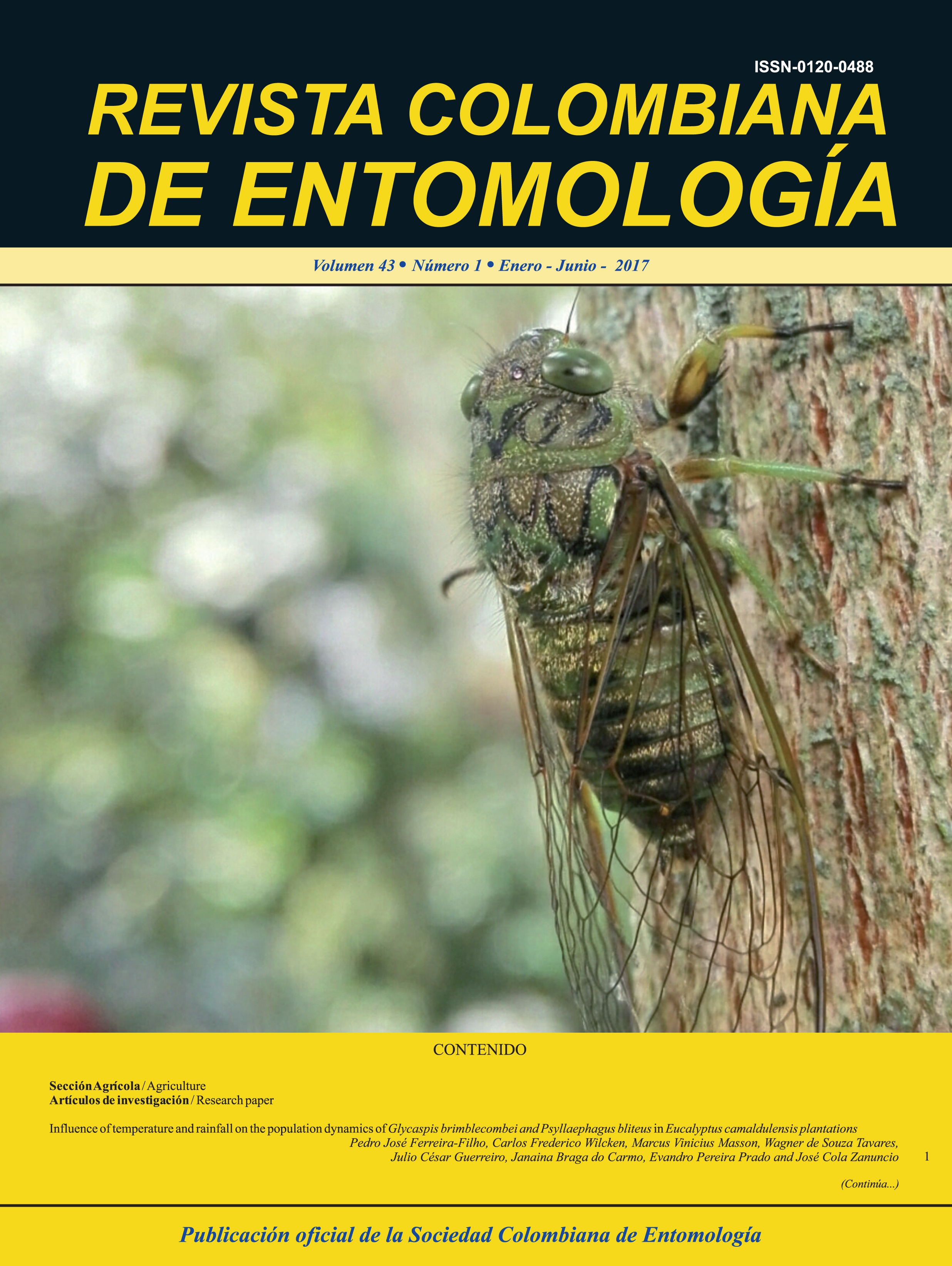 Aislamiento e identificación de bacterias de algunas plagas de álamo
Bacterias entomopatógenas Control biológico Turquia
Main Article Content
Se registra el estudio de la flora bacteriana de cuatro importantes plagas de álamo, Cryptorhynchus lapathi
(Coleoptera: Curculionidae), Sciapteron tabaniformis Rott (Lepidoptera: Sesiidae), Nycteola asiatica (Lepidoptera:
Nolidae) y Gypsonoma dealbana (Lepidoptera: Tortricidae) en la búsqueda de agentes de control ecológicamente alternativos contra las plagas del álamo y disminuir los efectos indeseables causados por los plaguicidas químicos en el
área urbana y los bosques urbanos. Se aislaron e identificaron cuarenta y tres bacterias de las larvas y adultos de estas
plagas a partir de cinco localidades diferentes. Todos los aislados bacteriales fueron cultivados e identificados usando
los sistemas VITEK (VITEK® 2 GN ID card prod. no; 21341 and VITEK® 2 GP ID card prod. no; 21342, bioMerieux,
Marcy l'Etoile). Los miembros de los géneros de las familias Bacillaceae y Enterobacteriaceae fueron aislados con más
frecuencia de ambos insectos de la plaga.
Yaman, M., Ertürk, Ömer, Ünal, S., & Selek, F. (2017). Aislamiento e identificación de bacterias de algunas plagas de álamo. Revista Colombiana De Entomología, 43(1), 34–37. https://doi.org/10.25100/socolen.v43i1.6644
Downloads
Download data is not yet available.
Authors retain the copyright on their work and are responsible for the ideas expressed in them. Once a manuscript is approved for publication, authors are asked for a publication license for the term of legal protection, for all territories that allows the use, dissemination and disclosure of the same.