Diversity of Andean potato weevils (Coleoptera: Curculionidae) on Potato (Solanum spp.) in Puno-Peru
Abstract
The Peruvian Altiplano is considered the place of origin of the potato crop
(Solanum spp.). The Altiplano is also the center of the origin of the most important insect pests, compound by different species, called the Andean potato weevils complex (Coleoptera:
Curculionidae). The present study aimed to demonstrate the diversity of species of the pests in two potato-producing communities: Jallahua and Kcoriñahui, distant between them 17 km and located at altitudes between 3883 and 4093 meters above sea level (a.s.l.), in the district Pucará, Lampa, Puno. Adults of the Andean weevil were collected from potatoes plants with Barber ́s pitfall traps, then they were classified and identified by comparison with reference material from the collection of the International Potato Center (CIP) and subsequently the identifications were verified in the laboratory with a dichotomous key. Results allowed differentiating the species: Premnotrypes solaniperda Kuschel, Cylydrorhinus sp., Listroderes punicola Kuschel, Puranius sp., Rigopsidius tucumanus Heller, Rigopsidius piercei Heller, and four unidentified species. Heterogeneity in the geographical distribution of the species was verified with Premnotrypes solaniperda Kuschel being the most dominant, the other species showed intermediate and lower densities and dominances.
Authors
Downloads
Download data is not yet available.
Keywords
Premnotrypes vorax
Rigopsidius
Solanum tuberosum
Solanum spp.
Premnotrypes
Rigopsidius
Solanum tuberosum
Solanum spp.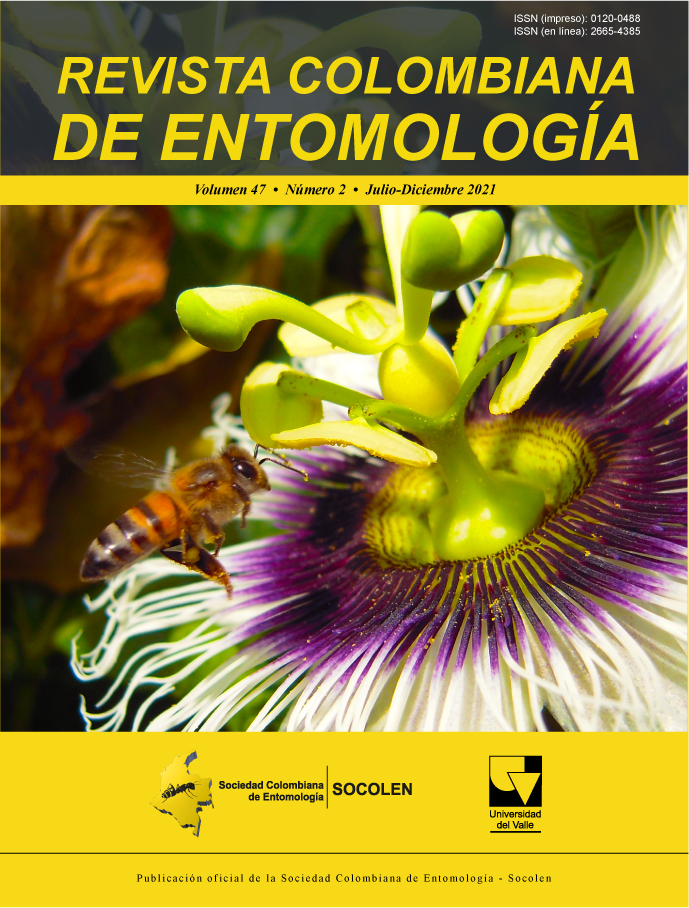 | 0 |
How to Cite
Bravo-Portocarrero, R. Y., Idme-Bustinza, V. H., Lima-Medina, I., Cornejo-Condori, G., & Casa-Coila, V. H. (2021). Diversity of Andean potato weevils (Coleoptera: Curculionidae) on Potato (Solanum spp.) in Puno-Peru. Revista Colombiana De Entomología, 47(2). https://doi.org/10.25100/socolen.v47i2.10797
Section
Agriculture / Research paper
Copyright (c) 2021 Array
This work is licensed under a Creative Commons Attribution-NonCommercial-ShareAlike 4.0 International License.