Diversity of epigeal coleopteran in hualo forests and insigne pine plantations in central Chile
Abstract
Hualo forests (Nothofagus glauca) endemic from Chile have been impacted by anthropic processes such as substitution by exotic plantations of ensigned pine (Pinus radiata). The diversity of epigeous Coleoptera in Hualo forests, highly sensitive to changes, has been scarcely documented in Chile. It was evaluated the seasonal diversity of epigeous Coleoptera in three habitats (hualo forests, pine plantations, and mixed formations of pine plantations and hualo forests) in the area of Constitución, central Chile. During the spring and summer were established three random linear transects of 100 m in three mature stands of each habitat, where 10 pitfall traps were installed every 10 m. For each habitat, the composition, abundance, and richness of epigeous beetles were estimated. The diversity of species was calculated per season using the Shannon-Wiener (H'), Pielou (J'), Chao 2, and Jacknife 1 indexes. Besides, rarefaction curves were built to estimate the expected richness. Nineteen Coleoptera native species belonging to 11 families were detected. In spring, the relative abundances of Coleoptera were significantly higher in pine plantations, followed by mixed formations and hualo forests. In summer, although the abundance was reduced, the predominance in the pine plantations remained stable. The relative richness in pine plantations and hualo forests was similar and superior to mixed formations in summer. However, it was inferred from the rarefaction curves, that only the sampling effort in summer was appropriated. The H' index was higher in mixed formations in spring, and in N. glauca forests in summer, coinciding with the highest J'. The results suggest that maintaining pine plantations, favors the conservation of epigeous Coleoptera, acting as reservoirs of biodiversity, possibly due to the greater tree cover and understory, in this particular habitat.
Authors
Amanda Isabel Huerta Fuentes

Universidad de Chile, Santiago de Chile, Chile

Francisco Muñoz

Universidad de Chile, Santiago de Chile, Chile

Tomislav Curkovic

Universidad de Chile, Santiago de Chile, Chile
Downloads
Download data is not yet available.
Keywords
Nothofagus glauca
Pinus radiata
Coleoptera
Chile
diversidad
Neotrópico
Nothofagus glauca
Pinus radiata
Coleoptera
Chile
diversity
Neotropic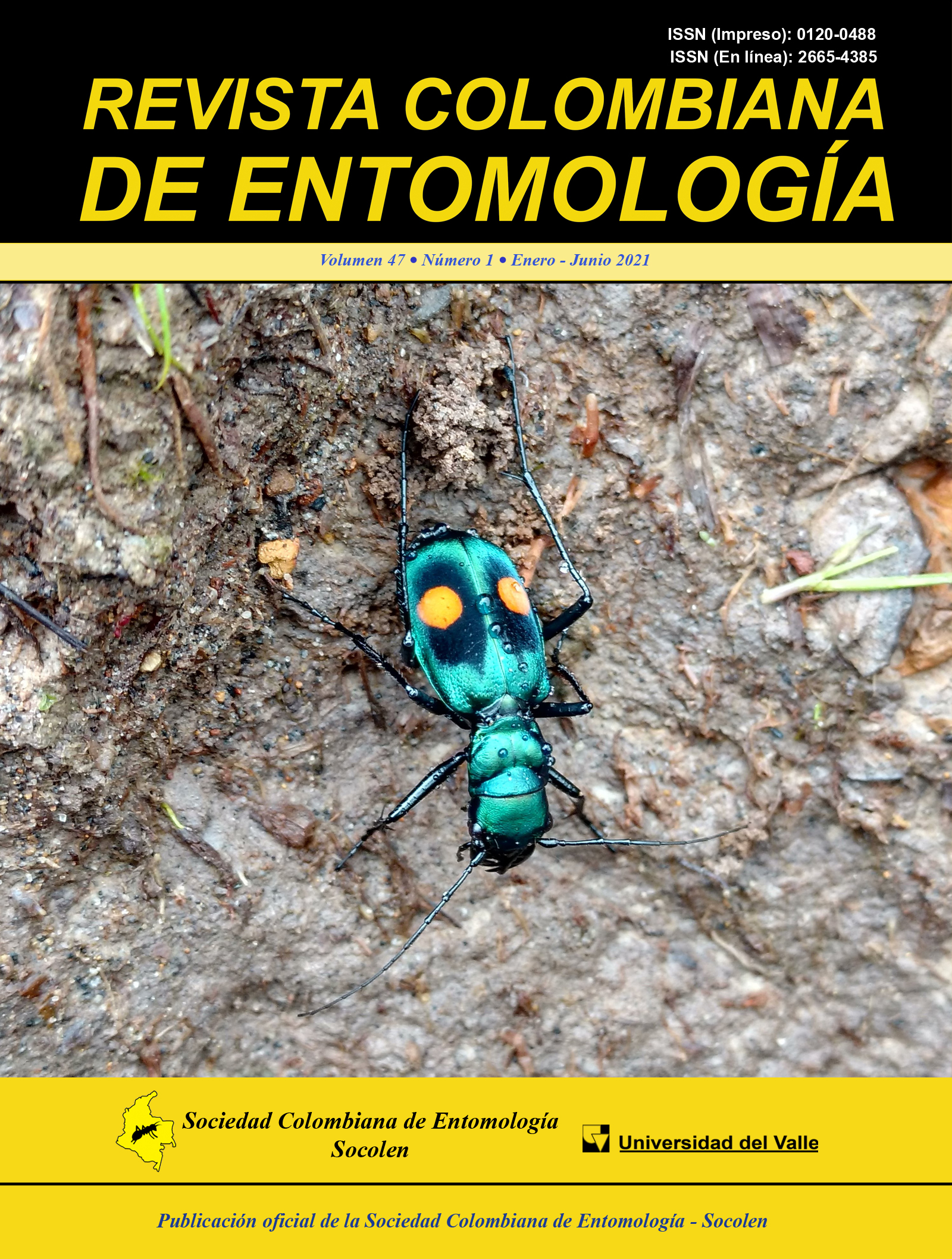 | 0 |
How to Cite
Huerta Fuentes, A. I., Muñoz, F. ., & Curkovic, T. (2021). Diversity of epigeal coleopteran in hualo forests and insigne pine plantations in central Chile. Revista Colombiana De Entomología, 47(1), 1-9. https://doi.org/10.25100/socolen.v47i1.7522
Section
Basic / Research paper
Copyright (c) 2021 Array
This work is licensed under a Creative Commons Attribution-NonCommercial-ShareAlike 4.0 International License.