Population fluctuation and parasitism of Aleurothrixus floccosus (Hemiptera: Aleyrodidae)in citrus trees from Atacama Desert, Chile
Abstract
The effect of three different types of crop management on parasitism of
Aleurothrixus floccosus in the Atacama Desert was studied. The studied parasitoids were: Cales noacki, Eretmocerus paulistus, Amitus spiniferus, and the hyperparasitoid Signiphora sp. The study was performed in Pica Oasis, located in the Atacama Desert, Tarapacá region, Chile, from February 2009 until February 2011. Three orchards were selected based on the type of plantation: the Bajo Miraflores Sector with plantation frames (5 x 5 m) and pruning management; the San Lorenzo Sector without plantation frames or pruning management; and Miraflores Sector that represents a mixed system between both of them.
Two sampling procedures were applied. One was of the absolute type, in which 36 leaves per tree were collected from four labeled trees that were sampled twice a month, and the
other was collected through yellow sticky chrome-attracting traps set in the central part of each of the labeled trees used for absolute sampling. The results indicate that in the Oasis of Pica, the different stages of A. floccosus are distributed throughout the year; with all stages represented during every month. The three sampled sectors exhibited different
population levels of A. floccosus. The hyperparasitoid Signophora sp. presented the highest population density. The average parasitism percentage of A. floccosus in Pica was lower than 15 %.
Authors
Downloads
Download data is not yet available.
Keywords
Mosca blanca algodonosa de los cítricos
Hemiptera
Hymenoptera
plaga de cítricos
fitófagos
Aleurothrixus floccosus
Woolly whitefly
Hemiptera
Hymenoptera
citrus pests
phytophagous
Aleurothrixus floccosus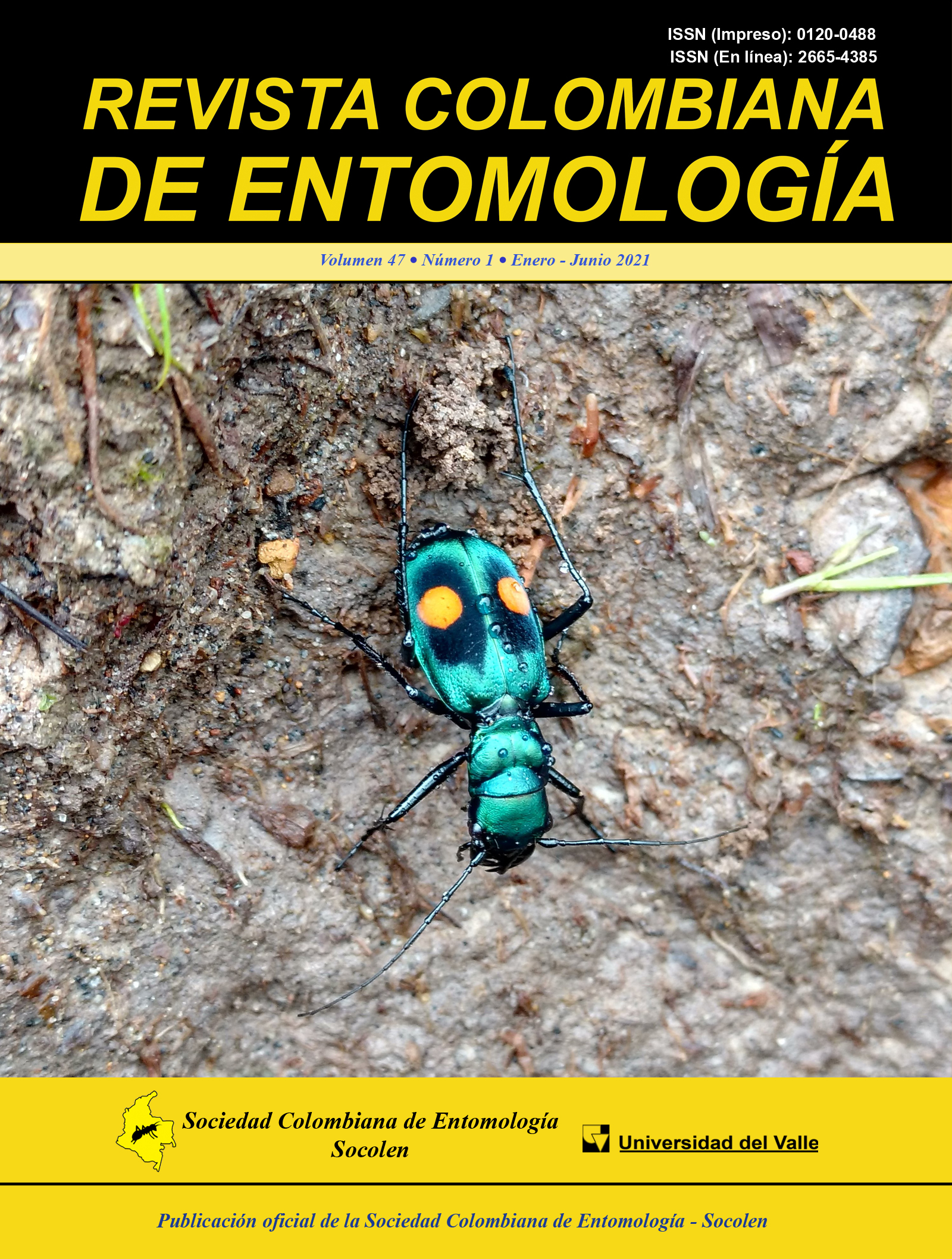 | 2 |
How to Cite
Tello-Mercado, V., & Zarzar-Maza, M. (2021). Population fluctuation and parasitism of Aleurothrixus floccosus (Hemiptera: Aleyrodidae)in citrus trees from Atacama Desert, Chile. Revista Colombiana De Entomología, 47(1), 3. https://doi.org/10.25100/socolen.v47i1.7806
Section
Agriculture / Research paper
Copyright (c) 2021 Array
This work is licensed under a Creative Commons Attribution-NonCommercial-ShareAlike 4.0 International License.