Incidence of pests in post-harvest material of nine export-type hydrangea cultivars in Antioquia (Colombia)
Abstract
Floriculture in Colombia has great economic and social impact bringing important profit to the sector for more than 40 years. Recently, the hydrangeas flower market have the largest growths in cultivated areas and exported product, but they also have the highest rates of interceptions at the international ports. Even so, few information about the main pests affecting crops, areas or cultivars has been published. This study evaluated the pests captured on hydrangeas' flowers inspected in a trading company of the Eastern region of Antioquia. A total of 6,272 samples (31,360 flowers), of nine cultivars from 86 farms in six municipalities collected during five months were used. The 8.61 % of the samples had at least one limiting-pest specimen for exportation. The most frequent arthropods were mites, eggs and motile stages, and in less frequency aphids, thrips and slugs. The most affected cultivars were those with blue flowers. The 90 % of the farms (n = 86) had at least one event of interception, although there was no spatial pattern associated with municipality. Our data suggest that the interceptions by quarantine pests were associated with the crop and post-harvest management rather than their geographic location or cultivars. This work provides, for the first time, information of the pests with highest incidence in exporting-type Hydrangeas. Although there is no information about the incidence of hydrangeas pests in the crops, these results could help to identify priority areas and cultivars for inspection and evaluation in the field.
Authors
Maria Daniela Molina-Acosta

Universidad Católica de Oriente, Ríonegro, Colombia

Samir Julián Calvo

Universidad Católica de Oriente, Ríonegro, Colombia

Magda Milena Palacio

Instituto Colombiano Agropecuario ICA, Bello, Colombia

Carlos Eduardo Giraldo

Universidad Católica de Oriente, Rionegro, Colombia
Downloads
Download data is not yet available.
Keywords
Hydrangea spp.
Manejo integrado de plagas
Floricultura
Plagas cuarentenarias
Artrópodos
Interceptación
Colombia
Hydrangea spp.
Integrated Pest Management
Floriculture
Quarantine pests
Arthropods
Interception
Colombia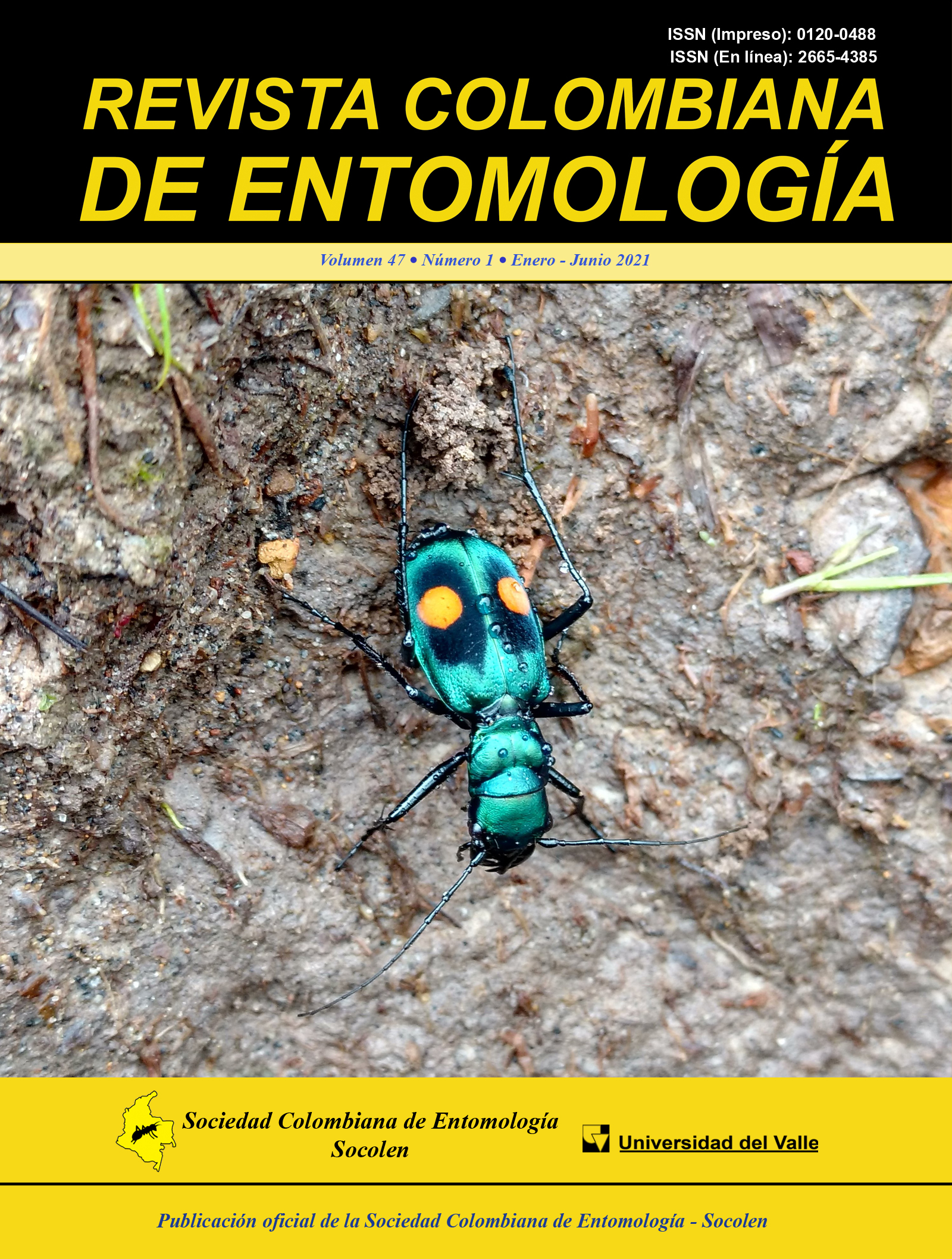 | 0 |
How to Cite
Molina-Acosta, M. D., Calvo, S. J., Palacio, M. M., & Giraldo, C. E. (2021). Incidence of pests in post-harvest material of nine export-type hydrangea cultivars in Antioquia (Colombia). Revista Colombiana De Entomología, 47(1), 2-7. https://doi.org/10.25100/socolen.v47i1.7530
Section
Agriculture / Research paper
Copyright (c) 2021 Array
This work is licensed under a Creative Commons Attribution-NonCommercial-ShareAlike 4.0 International License.